Everyone Has a Vermont Story
What is it about Vermont?
We all have a story about how we ended up here. Some have been in Vermont for generations, perhaps leaving for college or working elsewhere before coming back to the Green Mountains to raise a family.  Others come here for college and stay, perhaps after a detour. Most are here because they want to be and that always makes me wonder: what is it about Vermont that draws folks here?  
I moved to Vermont with my family almost six years ago after nearly two decades in various Boston neighborhoods. Our oldest child was approaching kindergarten and we were facing the very uncertain process of the Boston Public School lottery system, which meant our five-year-old could go to school two blocks away or across the city.  
We had always talked about moving to Vermont and after getting married in Waitsfield in 2002, had visited at every opportunity to take advantage of hiking, skiing and rich local culture. However, a full relocation to Vermont seemed a long shot until I got a job here and my husband, Cort Boulanger was able to move and maintain his public affairs consulting business.
Now, we collectively need to get the word out about Vermont to the kind of people who value the lifestyle and activities available here and are comfortable with the type and pace of growth that Vermont favors. The recent tweet below captures this outlook well.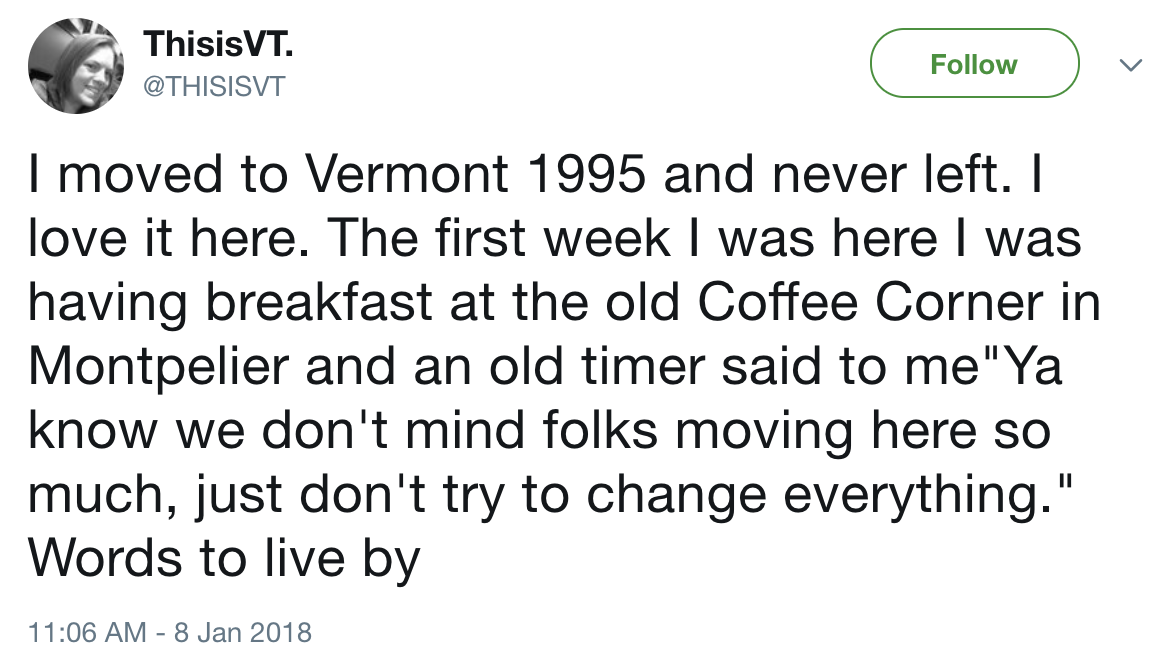 There have been some encouraging indicators of late that paint a positive picture for Vermont, its future and some sense of why most Vermonters are happy to be here. After regularly hearing that the entire Northeastern United States was losing population, these reports came as a very pleasant surprise.
First up – United Van Lines publishes an annual report on all the moves it does and the percent of total moves in each state that are inbound vs. outbound. Vermont came out on top with nearly 68% of moves being inbound. This is remarkable when compared to our neighboring states and like 2016 when we came in 2nd behind South Dakota.
When you dig into the data, the details are not quite as rosy with 75% of outbound moves leaving for a job and 50% of outbound moves coming in the 18 – 34-year-old range. More needs to be done to attract and create the right kind of jobs to keep younger Vermonters here or enable them to come back after spending some years away. 
In another bit of good news, Vermont gained population for the first time since 2013. The numbers are not big, but they are moving in the right direction and that should be celebrated. While more Vermont babies would help continue this trend, we also need to find ways to entice more workers of all skill types to make our Brave Little State home.
This takes us to the last indicator I wanted to share with you, one that gets to the heart of what makes Vermont, Vermont: the state ranks number one on the Opportunity Index. The study shows we still have work to do on the economy, but we hit it out of the park on our community score compared to other states. This is measured using a handful of indicators that consider community engagement: volunteering, voter registration, grocery store access, percent of disengaged youth etc. Vermont received high marks in all these categories. We, collectively, are doing our part to make this a better place to live, raise a family or retire. 
What's your Vermont story?  What should we all be doing to help create new opportunities for Vermont residents and entrepreneurs, while maintaining our special character?